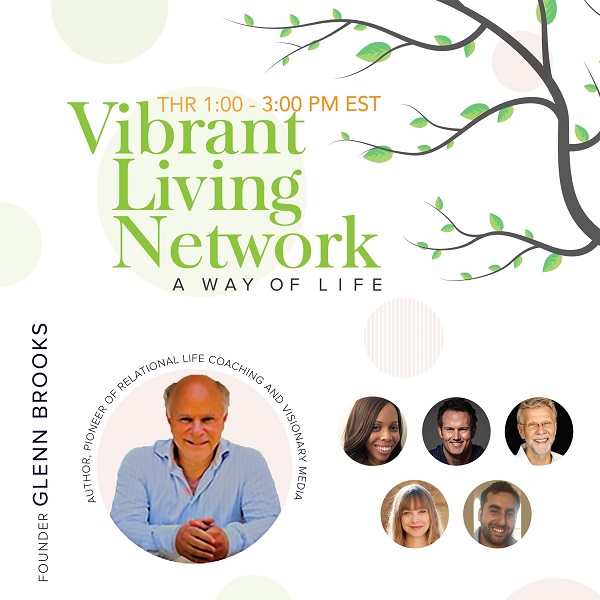 Aired Thursday, 14 June 2018, 1:00 – 3:00 PM EST
Vibrant Speaking
On this week's show, we discuss how Vibrant Speaking is more than just "Bagels on Sunday" but a contribution to a robust way of living and being. When you connect your message to your body and speak to the soul of the audience, something profound happens. Through an exceptional understanding of how to use momentum and re-engagement as profoundly effective tools, we will enter the dojo of Vibrant Living with an arsenal of resources and techniques.
CONTRIBUTORS:
Glenn Brooks, Host
Maureen Hart Cary, www.RINaturalAwakenings.com 
Kai Cole, www.OurDailyMagic.com 
Ariel Baradarian, Homeopath, naturalholistichomeopathic.com
Maureen Cary is the Publisher of Natural Awakenings Rhode Island. Natural Awakenings is a free, monthly publication with cutting-edge information on natural health, nutrition, fitness, green living, personal growth, creative expressions and the products and services that support a healthy lifestyle. Natural Awakenings has become an indispensable personal resource for people seeking a healthy, sustainable lifestyle.
Kai Cole - Tribe Architect & Executive Producer. Tribe Architecture represents the cross-section of cultural engineering and marketing/PR. Kai was traditionally trained as an Architect and later translated her skills to become a Celebrity Publicist at a prominent firm in NYC. Currently, Kai has been laser-focused on building sustainable social constructs to spread the message of conscious healing across the globe including the launch of www.ourdailymagic.com.
Ariel Baradarian is a holistic certified homeopathic practitioner, blogger, the chief editor of naturalholistichomeopathic.com and Producer of Unscripted Power Summits and Unscripted Power Speakers.