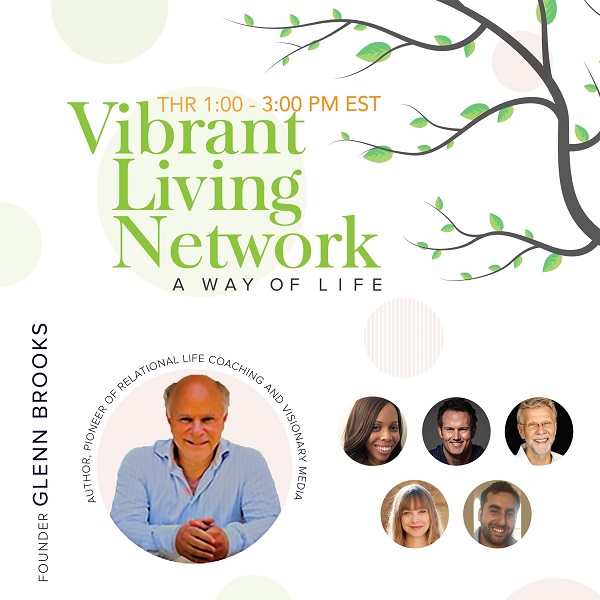 Vibrant Immunity
Aired Thursday, April 16, 2020 at 10:00 AM PST / 1:00 PM EST
Join us on Vibrant Living to as we delve deeper into Vibrant Immunity, well being and going beyond our beliefs to embrace a new vision.
Raising Our Frequency
Discover practical ways to raise your frequency through sounding and movement with the Sound Lady, Kathleen Nagy. Kathleen will be sharing her wisdom of sound healing and how we can use music, tones and frequencies to boost immunity and our spirit. Kathleen will be offering on-air toning tools and how to support the body by raising your own vibration. Kathleen has generously created an Immune Support audio file that is FREE to download and use to boost your immune system. The audio download, along with more information on Chakra Sound Spa is available on her website, https://thesoundlady.com/.
Healing Beyond Belief ­­— A Doorway Towards Vibrant Immunity
We are all experiencing trying times and whether we realize it or not, it does affect our health and immunity. We each have an opportunity to see these challenges as a doorway to being able to dissolve the beliefs that are getting in the way of us experiencing Vibrant Health and Immunity — but how? Join Dr. Gayle Randall as she shares her vitally important insights on how to heal beyond belief to transform our health and our lives.
How to Deepen Your Connection with Your Dog
Dog mystic, Cherie Marquez, will be sharing how to deepen your connection with your dog at the soul level. Keep an eye out for Cherie's upcoming book "Being In Deep Tune With Your Dog" which is a practical yet intuitive approach for you and your dog.
Bios
Gayle Madeleine Randall, MD, has over forty years of direct experience as a physician, scientist, cross-cultural practitioner, administrator and writer to her endeavors. Dr. Randall is a pioneer in the Integrative Medicine discipline. By combining different cultural healing experiences and putting the focus on the patient, Dr. Randall creatively formed a type of focus that looks at the relationship of physical, spiritual, mental, and emotional health of the patient. She named this practice Soul Doctoring. Her medical journey has taken her to new heights, helping every patient that walks through her doors. Dr. Randall has conducted lectures, workshops and seminars on Mind-Body Medicine throughout the world. She brings together the entirety of her experience, and intrinsic knowledge of the human body, heart and soul, to break new ground in holistic medicine, self-healing and the highest limits of human potential.
Cherie Marquez, the owner of Smart Paws Dog Training, will be sharing her insights about what your dog's behavior tell you about you. She will discuss why your dog is tuned into you, your behavior and your assumptions. Cherie will share how to read your dog's signals and why truly tuning into your dog will allow for deep bonding and a profound understanding that brings dog medicine into your home.
Kathleen Nagy has several decades of professional experience as a classically trained musician. She majored in music education and applied music on French Horn and after 18 years of performing in symphony orchestras playing the French horn, teaching music education and directing musical theater productions, Kathleen forged through the ingredients of crafted "classical" melody, harmony and structure, and found the power, beauty and healing properties of tone and harmonics. For the past 20+ years Kathleen has been a BioAcoustic Research Associate. Ms. Nagy specializes in Voice Energy Analysis and Acoustic Biofeedback for sports or muscle injuries.
After a lifetime of being surrounded by beautiful music and healing sounds, Ms. Nagy has created The Chakra Sound Spa Experience (Guided Meditation mp3's). This product teaches the listener to find the notes that vibrates their chakras, listening to the beautiful chimes on the mp3's that are in the key of your body's emotions, relives anxiety, insomnia and depression.
Lisa LeRose an internationally respected natural health advocate, wellness practitioner, educator, counselor, speaker, and eternal optimist, is the founder of One Wisdom, a healing arts collective focused on creating life-changing transformation for clients. Her workshops, classes and sessions are prized for providing the tools and guidance for everyone to become their own enlightened healer. Lisa is a constant student of the Universe and listens to the guidance of her heart. She envisioned the Centered In Summit to delve deeply into the realms of healing and is currently working on a book in order to share, with an open heart, what she has learned.
CONTRIBUTORS
• Glenn Brooks, Host
• Dr. Gayle Randall, https://www.drgmrandall.com/
• Cherie Marquez, http://www.smartpawsdogtraining.com/
• Kathleen Nagy, https://thesoundlady.com/
• Lisa LeRose, Executive Producer, http://www.onewisdom.org/
Visit the Vibrant Living Network show page https://omtimes.com/iom/shows/vibrant-living-network/
Connect with Glenn Brooks at https://www.vibrantlivingnetwork.com/
#VibrantImmunity #Healing Sound #GlennBrooks #VibrantLivingNetwork