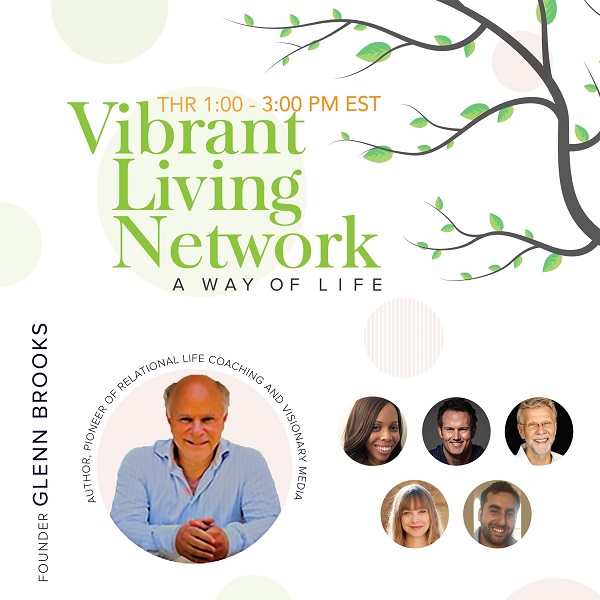 Three Aspects of a Miraculous Life
Aired Thursday, April 9, 2020 at 10:00 AM PST / 1:00 PM EST
Join us on Vibrant Living as we cover the three aspects of how to enter the Miraculous Life.
Sound Healing for Boosting Our Immunity
We are excited to have the Sound Lady, Kathleen Nagy, as part of our team. Kathleen will be sharing her wisdom of sound healing and how we can use music, tones and frequencies to boost immunity and our spirit. Kathleen will offering on-air toning tools and how to support the body by raising your own vibration. Kathleen has generously created an Immune Support audio file that is FREE to download and use to boost your immune system. The audio download, along with more information on Chakra Sound Spa is available on her website, https://thesoundlady.com/.
Kathleen has been a part of 3 miracles in her sound healing life and she has discovered that there are 3 ingredients that need to be present for a miracle to happen.
1. An open heart
2. attitude of Oneness
3. High level of emotional and intentional frequency
Chanting is one way to get into that stream of consciousness.
Also, Kathleen put up a spontaneous post this morning on facebook and instagram. It's a Oneness meditation with music. She is unplugged and according to her, the sound is so much more important than the look….. https://www.facebook.com/PainManagementwithSound/videos/2609351119281242/
Dis-pelling Disturbances to Improve Immunity
Dr. Gayle Randall will speak about Dis-pelling a thought virus or a "spell". Learn how to remove the things that make you vulnerable, lowers your immunity and makes you susceptible to a disturbances in your mind and body. Dr. Randall will share how you can incorporate specific practices to build immunity and make them a lifestyle to generate Vibrancy.
Why the Movement of your Dog Impacts Your Life
Dog mystic, Cherie Marquez, will be sharing how the movement of your dog can change the way you move and breathe. Cherie will teach us how to sit back and allow the dog's movement can guide us to where we need to be. Cherie's upcoming book "Being In Tune With Your Dog" is a practical yet intuitive approach for you and your dog.
Bios
Gayle Madeleine Randall, MD, has over forty years of direct experience as a physician, scientist, cross-cultural practitioner, administrator and writer to her endeavors. Dr. Randall is a pioneer in the Integrative Medicine discipline. By combining different cultural healing experiences and putting the focus on the patient, Dr. Randall creatively formed a type of focus that looks at the relationship of physical, spiritual, mental, and emotional health of the patient. She named this practice Soil Doctoring. Her medical journey has taken her to new heights, helping every patient that walks through her doors. Dr. Randall has conducted lectures, workshops and seminars on Mind-Body Medicine throughout the world. She brings together the entirety of her experience, and intrinsic knowledge of the human body, heart and soul, to break new ground in holistic medicine, self-healing and the highest limits of human potential. https://www.drgmrandall.com/
Cherie Marquez, the owner of Smart Paws Dog Training, will be sharing her insights about what your dog's behavior tell you about you. She will discuss why your dog is tuned into you, your behavior and your assumptions. Cherie will share how to read your dog's signals and why truly tuning into your dog will allow for deep bonding and a profound understanding that brings dog medicine into your home. http://www.smartpawsdogtraining.com/
Kathleen Nagy has several decades of professional experience as a classically trained musician. She majored in music education and applied music on French Horn and after 18 years of performing in symphony orchestras playing the French horn, teaching music education and directing musical theater productions, Kathleen forged through the ingredients of crafted "classical" melody, harmony and structure, and found the power, beauty and healing properties of tone and harmonics. For the past 20+ years Kathleen has been a BioAcoustic Research Associate. Ms. Nagy specializes in Voice Energy Analysis and Acoustic Biofeedback for sports or muscle injuries.
CONTRIBUTORS
• Glenn Brooks, Host
• Dr. Gayle Randall
• Cherie Marquez
• Kathleen Nagy
• Lisa LeRose, Executive Producer, http://www.onewisdom.org/
Visit the Vibrant Living Network show page https://omtimes.com/iom/shows/vibrant-living-network/
Connect with Glenn Brooks at https://www.vibrantlivingnetwork.com/
#VibrantImmunity #Healing Sound #GlennBrooks #VibrantLivingNetwork