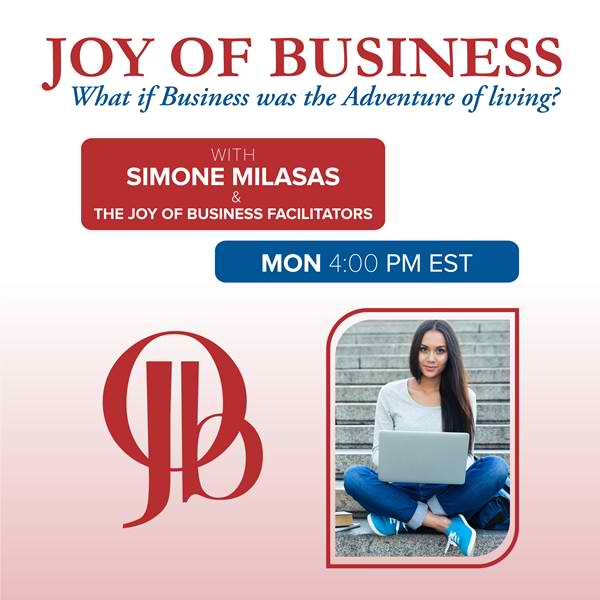 Aired Monday, 26 November 2018, 4:00 PM ET
Out Of The Box
Marnie Barranco and a few of our Joy of Business interns get of the box with business and creating. Join us as we explore our favorite business tools, going beyond the status quo, creating for the future and so much more.
Hosts Bio:
Marnie Barranco – Inspirational speaker, writer, empowerment coach and Access Consciousness Facilitator, Marnie Barranco, has over 15 years of experience in Director and VP level positions across a variety of industries. From business to relationship to parenting and more, Marnie facilitates classes and private sessions using the pragmatic tools of Access to empower people to create the life they desire.
Leandra Costa has being a High End Massage Therapist for 15 years. She lives in London where she worked for a Mobile Massage Company. Her clientele consisted of celebrities, political figures and very busy business people. She is now creating and being part of Joy Of Business Team as an Intern.
Denise Wicki has worked in accounting and finance management for over 15 years. In close collaboration with CEOs and CFOs she learnt about different strategies and got a great overview of how companies are run. Looking for a happier and more fulfilling life, she found Access Consciousness in 2012. She attended many classes all around the world, which totally fit her as a passionate globetrotter. Using the tools in every aspect of her life, Denise's curiosity of what else is possible grew rapidly. Doing business became even more joyful, in working with the team at Joy of Business!
Pamela McDowell is a consultant and an Access Consciousness Bars Facilitator based out of Tropical North Queensland, Australia. Previously she has worked in as an engineer, a business improvement advisor, an energy conservation specialist, a yoga teacher and an English teacher. She is happily enjoying a few months as a Joy of Business Intern.
When Niki Duffy qualified as a Clinical Hypnotherapist in 2002, it was the beginning of her love affair with Holistic Therapies. And in starting that first Holistic Business, she discovered a flare for many aspects of business including marketing, consulting and harnessing the power of the internet to work for you. Niki is enjoying the Joy of Business internship which she is doing alongside the other businesses she runs including Access Consciousness Bars Facilitator, Property Investing, Business Coaching and Helping Holistic and Creative Businesses with all they need to start and grow.