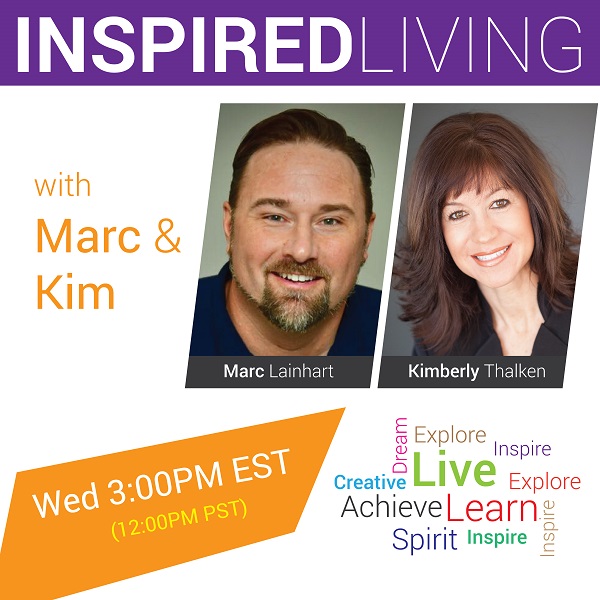 Marc Lainhart – Honoring Your Grief
Aired Wednesday, 7 August 2019, 3:00 PM ET
Join us this "Wisdom Wednesday" of INSPIRED LIVING RADIO as host Marc Lainhart – The Intuitive Prospector™ discusses how to 'Honor Your Grief' and the journey of self-discovery, healing, transformations, and a whole lot of "Spiritual Gold!"
"Once a Student of Extreme Loss and Tragedy. Now a Teacher of Hope and Healing!" -The Intuitive Prospector™
INSPIRED LIVING – LIVE INTERNET RADIO:
12PM PST / 1PM MT / 2PM CST / 3pm EST
Phone lines will be open in the second half of this show for FREE readings with Marc
*Please ask questions related to the topic of the show only*
OM TIMES RADIO: 1-202-570-7057
SHOW TOPIC:
Through Marc's career and much interaction with death and dying, including his own Near Death Experience (NDE), an Out of Body Experience (OBE) while being present and holding his grandma's hand at the actual time of her passing, to the tragic loss of both his younger brother, his older brother, and his father-in-law. Marc has been given a front-row seat to what society calls "death." Through his own grief, healing, and transformations, Marc will share his personal "Soul Adventures" with those who really are looking to "claim" their own stake of "Spiritual Gold!"
Marc accomplishes today's spiritual work for spirit through his spiritual practice in Seattle, Washington, weekly radio show/podcasts, YouTube/Facebook shows, local hikes, workshops, lectures, personal mentoring, weekly online spiritual development group, private readings and public demonstrations with "Prospectors" all around the world. After several years of healing, learning, study, development, self-reflection, guidance, confidence and TRUST, Marc finally accepted his intuitive gifts and "Authentic Self" and is always honored and humbled to be a "voice for the voiceless."
LIFE = Learn It From Experience…
ABOUT MARC LAINHART:
SPIRITUAL CONSULTING – LIFE. LOSS. LOVE.
Based in Seattle, Washington, Marc Lainhart is an award-winning, internationally respected and British trained Spiritual Psychic-Medium. He is a dedicated Metaphysical Teacher, Holistic Healer, Inspirational Thought Leader, Certified Healthcare Provider, Writer, and Radio Show Host who is passionate to serve, heal, guide, teach, transform, and inspire others to connect with spirit and self in the wonderful world that surrounds us! With his own Near Death Experience (NDE) and several personal tragedies, he has spent the last several years deciphering and demystifying the sensational subject matter of death and dying and now strives to help others from around the world tap into and flex their own intuitive muscles and abilities.
Connect with Marc at: MarcLainhart.com