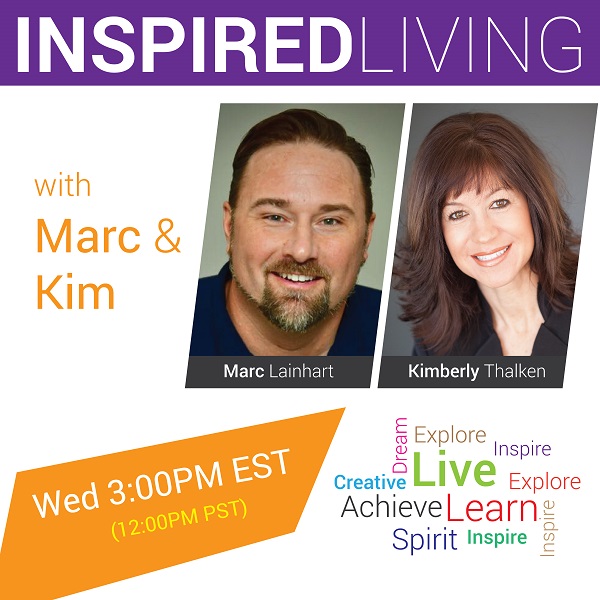 Marc Lainhart and Kim Thalken – Inspired Living
Aired Wednesday, October 30, 2019 at 12:00 PM PST / 3:00 PM EST
Join us this "Wisdom Wednesday" on INSPIRED LIVING RADIO as host Marc Lainhart and Kim Thalken do their LAST SHOW TOGETHER as co hosts celebrating the creation and the evolution of Inspired Living.
**Marc Lainhart will continue hosting ILR solo**
INSPIRED LIVING – INTERNET RADIO AT: 12PM PST / 1PM MT / 2PM CST / 3pm EST: https://lnkd.in/eBpHBiR
ABOUT:
Kimberly Thalken is a tested and certified Psychic-Medium and Channel, approved as an official Psychic reader for events at the Edgar Cayce Association for Research and Enlightenment, Master-Instructor in Energy Healing, Hypnotherapist, Author, Radio Show Co-Host on "Inspired Living with Marc and Kim" and the founder of Love First®. Where Life Transformations Happen in Encino, CA.
Kimberly's work focuses on elevating consciousness–connecting her clients to their own inner wisdom and power so that they bring forth the highest aligned realities and optimize their full potential of all they came here to be.
CONTACT: www.lovefirst.info
SPIRITUAL CONSULTING – LIFE. LOSS. LOVE. Based in Seattle, Washington, Marc Lainhart is an award-winning, internationally respected and British trained Spiritual Psychic-Medium. He is a dedicated Metaphysical Teacher, Holistic Healer, Inspirational Thought Leader, Certified Healthcare Provider, Writer, and Radio Show Host who is passionate to serve, heal, guide, teach, transform, and inspire others to connect with spirit and self in the wonderful world that surrounds us! With his own Near Death Experience (NDE) and several personal tragedies, he has spent the last several years deciphering and demystifying the sensational subject matter of death and dying and now strives to help others from around the world tap into and flex their own intuitive muscles and abilities.
"Once a Student of Extreme Loss and Tragedy. Now a Teacher of Hope and Healing!" -The Intuitive Prospector™