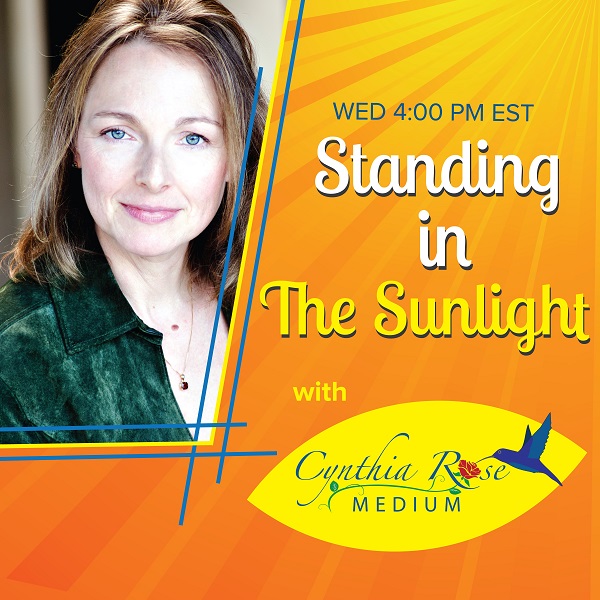 Aired Wednesday, 28 February 2018 at 4:00 PM EST / 1:00 PM PST
Living A Spiritual Life Through Singing Telegrams with Randi Sue Sunshine
The meaningful laughter show! Some say laughter is the best medicine! Join Standing In The Sunlight host Cynthia Rose as she welcomes Randi Sue Sunshine to the show. What is sure to be a fun filled banter on spiritual lessons through singing telegrams. Many people teach how to manifest the life you want but Randi lives it. An every day person following her path.
We will talk about:
* Telegrams and lessons
* Living A Spiritual Life in Your Business
* Trust
*Manifesting
As a young single mom Randi was not enjoying the grueling schedule as an actor but she loved acting. Randi is a living example of how to trust and follow your path. She decided to create her own business and that was in 1980. She merged her theatre training, writing and performing to create Sunshine Singing Telegrams. Eventually she realized she was using her intuitive abilities as well.
Everyday life is full of lessons and these lessons have come through her everyday business. We will talk about living your path. This show will be a one of a kind show filled with laughter and personal insights!
Her story is also a testament to the fact that you can create the life you want!
Sunshine Singing Telegrams are one of a kind telegrams: http://www.sunshinesingingtelegrams.com
These are not all just the suits you can by online.
Randi's telegrams range anywhere from a complete skit… and we'll talk about that to just a love song sung to a special someone. Her costumes are not from a catalogue but created from her own ideas. It may be a simple outfit to fit with the telegram or it may be a one of a kind costume that she intuited would fit with the message. These telegrams are a loving act filled with kindness for Randi.
Sunshine Singing Telegrams is in it's 38th year!
Bring some sunshine into your day and listen in!