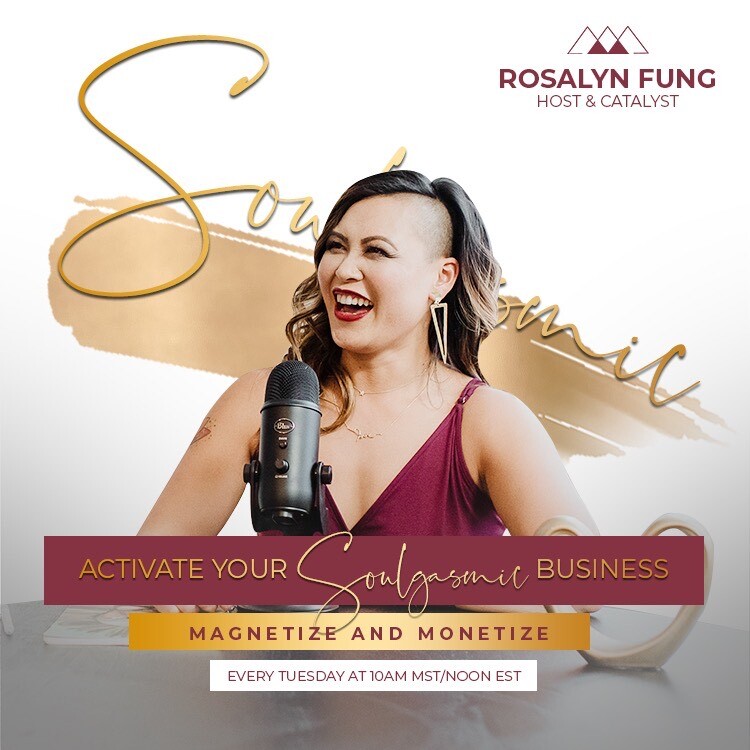 Launch of Activate Your Soulgasmic Business with Rosalyn Fung
Air Date: Tuesday, 26 May 2020 at 12:00 PM ET/9:00 AM PT
OoooOooOOoooh!!!!
I'm INVITING YOU to my PODCAST PREMIERE to TURN YOU ON (and I mean TUuuuuurn YOU ON) and ACTIVATE your own Sexy, Soulful Magnetic Vibes so that your business CLIMAXES into SOULGASMIC WAVES & RIPPLE EFFECTS!!!
This isn't going to be just ANY podcast (can you tell already)?
JOIN ME FOR THE RADIO SHOW PREMIERE!
My intention is to catalyze you to take INSPIRED ACTION through listening to my story of how I left my successful clinical private practice as a psychologist, to take the leap of faith into the unregulated field of coaching – with no certainty of outcome and despite the disapproval of cultural, academia societal limits.
I want to share with you:
* How I derived to my soul-led mission of operating from beingness, over doingness so that you can be authentically yourself in business – you make your own rules! No more trying to fit in and playing small. It's time to boldly and unapologetically live in your purpose and monetize on your calling!
* As a spiritual business coach specializing in client attraction and soulful sales, I will share what exactly is a soulmate client means, and what is the definition of a soulgasmic business.
* How I view and define the concept of SEXY and it's relation to being MAGICALLY MAGNETIC.
* I will define what light language is, the benefits and deliver a light language transmission to activate you to receive downloads to unlock your abundance codes.
* What does it mean to have ease and flow in your spiritual or heart-driven business, and how do you create ease and flow?
* What are some blocks that get in the way of monetizing (more) on your calling?
I'm bringing my own gifts of psychology, neuroscience, spirituality, soulful marketing, & activating you with my LIGHT LANGUAGE (a language of unconditional love that only your soul can understand so that you
RECEIVE,
ACTIVATE,
EXPAND and
EVOLVE
I can't wait for you to JOIN ME FOR THE RADIO SHOW PREMIERE!
Let's stay Connected!
Facebook Business Page: Rosalyn Fung Coaching: Bold Sexy Warrior https://www.facebook.com/boldsexywarriors/
You can catch the Preshow Podcast Launch FB Live Party there (look for the pinned video at the top upon arrival to my page), and share your intentions, wishes, and hopes for yourself for your life and business, and the impact you hope to make right in the comments! I'm here to conjure up all of your desires into this Global Energetic Sacred Container for the Highest Good & Truth!
Instagram: @boldsexywarrior
Free Client Attractor Checklist: http://funboldsexy.com/clientattractorchecklist32720021
Journaling Prompt Reflection Questions as discussed in this episode:
1) What do you decide to be, create, do and have?
2) What comes up inside you that tells you that you can't have what you want and desire?
3) Where did these beliefs and stories come from? Who were the people and events that influenced you to take on these stories?
4) What do you want to decide for your story now, in alignment of your big vision dreams for your life and business?
Visit the Activate Your Soulgasmic Business Show Page at https://omtimes.com/iom/shows/activate-your-soulgasmic-business
Connect with Rosalyn Fung on her website http://www.rosalynfung.com
#RosalynFung #Soulgasmic #Business #Monetize #PersonalDevelopment