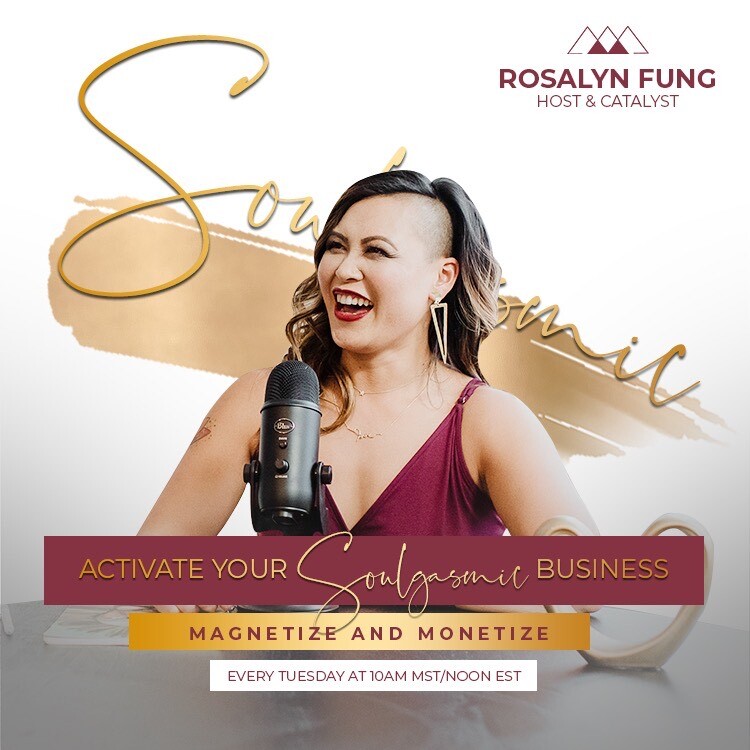 How to Address Current Events as a Leader with Love, Consciousness & Grace
Air Date: Tuesday, 2 June 2020 at 12:00 PM ET/9:00 AM PT
In this Global Energetic Sacred Container, and as a catalyst for inspiring others to SHOW UP and courageously lead with love, I have been deeply inspired and being led by Spirit, to also stretch outside of my own comfort zone in this episode.
Deep confession: Up until this past week, I have been avoiding any topics of race, politics and history. To me, these topics often feel overwhelming, dense and I wasn't sure how to participate as I was afraid of offending others. Can you resonate?
Through Spirit, and my own awareness and self-reflections, I realized that I am playing small if I continue my pattern of avoiding in these areas. I have found my edge in where I need to stretch next, not only as a human being, but also as a leader. I am using the power of my voice so that others who may feel the same way I do, as a transformational entrepreneur and leader, can learn how courageous hold space and FACILITATE a CONSCIOUS CONVERSATION about how to navigate through the current events regarding race, with deep grace, without the density, while still honoring the seriousness of it.
I will share more about how I came to this awareness specifically, and how it's transformed even how I show up as a leader in my home, business and community in the past week.
I am bringing on my soul sister and soulmate client, Oluchi (Laurel Sabur), who says to call her "A beautiful black woman", a Certified Meditation Teacher, a Spiritual Intuitive to jam with me on how to be spiritual entrepreneurs to acknowledge current events and contribute love to the collective consciousness for healing.
Our intention is to have a raw, honest, vulnerable conversation will be transformative to help you consciously decide how you can now be leaders not only in your business, but also in your home and community, as a way to gracefully and authentically lead, so that your part, no matter how small or big, makes ripple effects that changes and transforms yourself and lives forever.
We will be walking you through a sacred method to help you, as PILLARS OF LIGHT for the collective, to feel more confident and lean in with love, rather than react from fear while incorporating current events that happen (because let's face it, a lot of us live in "our bubbles"- and it's been something that serves and also, knowing what I know how, limits).
We will explore why anger is healthy and how we can use our anger for the greater good.
Oluchi will be guiding us through the power of a meditation and I will integrate you with a light language activation to help you, a Divine Being, and the collective heal and hold space for the grief we all feel, with intention to raise the frequency of this planet.
Let's stay Connected!
Facebook Business Page: Rosalyn Fung Coaching: Bold Sexy Warrior: https://www.facebook.com/boldsexywarriors/
Instagram: @boldsexywarrior
Free Client Attractor Checklist: http://funboldsexy.com/clientattractorchecklist32720021
I highly encourage you to connect with my soulsister, Spiritual Psychic Medium, Meditation teacher, Oluchi about her 6 week Meditation Program: Reclaim your Power, to help you come into your Divine Being here: https://www.nayaa.ca/pages/reclaimpower
You can follow Oluchi on Instagram at: @lsabur
Facebook Business Page: Oluchi Nayaa Lifestyles with Laurel Sabur: https://www.facebook.com/Saburlaurel/
Visit the Activate Your Soulgasmic Business Show Page at https://omtimes.com/iom/shows/activate-your-soulgasmic-business
Connect with Rosalyn Fung on her website http://www.rosalynfung.com
#Oluchi #LaurelSabur #RosalynFung #Soulgasmic #Business #Monetize #PersonalDevelopment