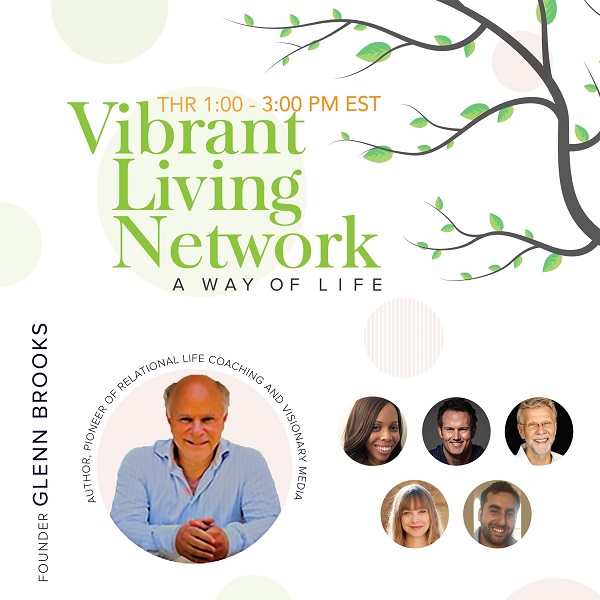 Aired Thursday, 4 October 2018, 1:00 – 3:00 PM EST
Go Beyond Dating to Relating
Vibrant Collaboration – Learn how to live your life in Vibrant Collaboration by going beyond bartering, trading, and exchanging for a new world of prosperity. Join Andy Hort, owner of Green Earth Enterprise. Andy is a Green Whisperer unlike anyone you have ever met! As the owner of America's greenest printer, Andy will share his insights on how to build your business by beyond competing with Vibrant collaboration and how Earth Enterprise's environmental commitment has made an impact what is possible in business.
The wonder of learning how to go beyond dating. Learn how to discover what is truly important in relational communications.
CONTRIBUTORS:
• Glenn Brooks, Host
• Dr. Teshna Beaulieu, "Update Your Love Blueprint", www.drteshna.com
• Lisa LeRose, www.onewisdom.org
• Ariel Baradarian, Homeopath, naturalholistichomeopathic.com
• Nate Hughes, of Menla Retreat Center & Spa, www.menla.us
• Andy Hort, Green Earth Enterprise www.earthenterprise.com
Teshna Beaulieu of Freedom Chiropractic is a licensed doctor of chiropractic and a certified practitioner in Quantum Neurology and Neuro-emotional technique. Dr. Teshna will be holding an upcoming workshop at Menla. Dates to be announced soon!
Lisa LeRose Wellness practitioner & Executive Producer is a natural health advocate, educator, counselor, international speaker, and eternal optimist. She believes that good health is our body's natural state and that if you give your body the right environment and support… it can heal itself. Learn more about Lisa at: www.onewisdom.org
Ariel Baradarian is a holistic certified homeopathic practitioner, blogger, the chief editor of naturalholistichomeopathic.com and Producer of Unscripted Power Summits and Unscripted Power Speakers
Nate Hughes path to Menla arose from his dedication to business interest with simple living and spirituality.