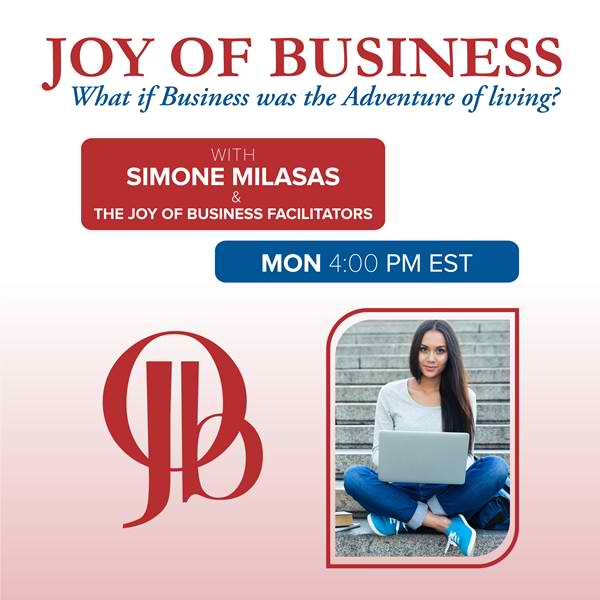 Aired Monday, 28 January 2019, 4:00 PM ET
Benevolence In Business Beyond Culture & Gender
Today's episode is about going beyond the gender biases and cultural differences in workplace and how to use Benevolence in business to ensure a greater feeling of belongingness among the employees, greater inclusiveness, free flow of ideas, variety of enriching perspectives and enhanced productivity. Most women drop out of the workforce due to a number of factors including personal situations, responsibility of raising children etc.
Guest Bios:
Laurence Favier is a Joy of Business facilitator and highly experienced corporate executive. After more than 30 years in senior IT roles, particularly in project management and operations, Laurence made a conscious decision to adopt a more fulfilling and nurturing approach to work and impending retirement.
After discovering Access Consciousness™, Laurence began to integrate these quick and effective tools into her own life, and to teach them to others. She has swiftly become an Access Consciousness™ certified facilitator, a Being You facilitator and a Joy of Business facilitator.
Her knowledge of the corporate world is an asset to her clients – Laurence offers relevant and effective training for businesses and business leaders, as well as valuable insights for the wellbeing of employees. She provides trainings, conferences, workshops and one-on-one sessions. www.capzen.info
Smriti Goswami is a business mentor, life coach and certified facilitator of several Access Consciousness® special programs, including Joy of Business, Right Voice For You, Being You, Access Bars® and Access Energetic Facelift.
She is a multi-engine, instrument rated FAA Commercial Pilot, experienced glider pilot and co-owner of ArtEscapades, conducts regular art workshops for adults as well as for under privileged kids throughout Mumbai, India.
A talented athlete and lover of adventure sports, Smriti successfully completed an intensive SCUBA course with the Indian Naval Diving Team in her youth – one of just eight girls in a gathering of 600 participants.
A committed advocate for women's empowerment with a profound love of travel, Smriti offers individual consultations and classes around the world, empowering people to think out of the box and follow their dreams.
She recently conducted an Access Bars workshop for 52 abandoned and/or orphaned street kids in Mumbai, empowering and introducing them to the tools of Access Consciousness.
Her motto is "What if the power of kindness was the greatest strength on Earth?" www.smritigoswami.com