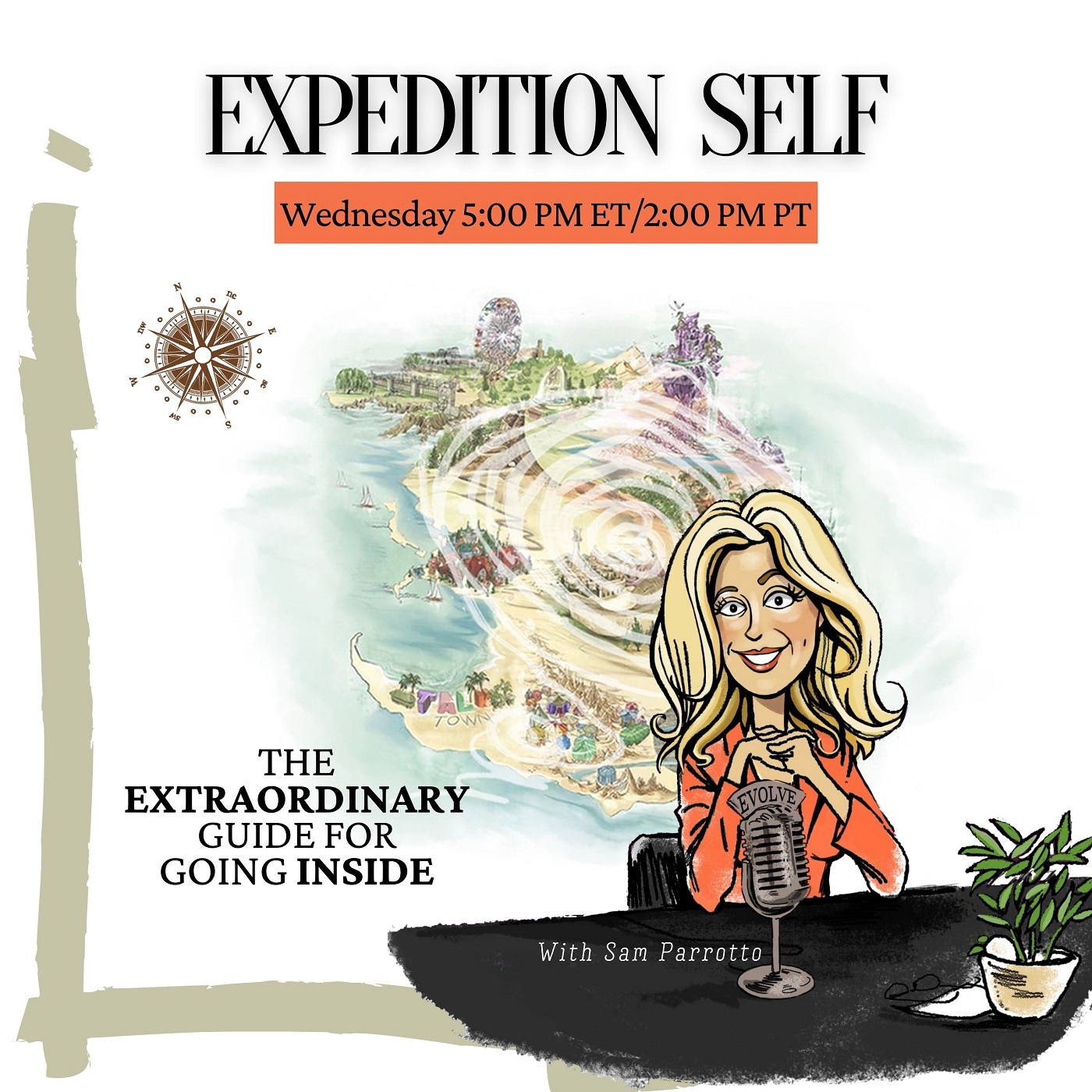 BEING in the Belly with Grit & Courage
Air Date: Wednesday, 18 May 2022 at 5:00 PM ET/2:00 PM PT
This week on Expedition Self, we'll be talking about 'BEING in the Belly with Grit & Courage.'
Sam will help you to contemplate the presence of grit and courage inside of your own life path. You'll gain a firmer grasp on the natural, unplanned occasions when you can open more fully to the offering of any moment.
We live in such an exposed, recorded, and re-watched version of everyday life, it's insidiously causing us to spend more time thinking about what our actions should look like or how we should be occurring than truly cultivating authentic growth within ourselves.
We covet privacy and offline life but is there any space, other than a solitary cottage in the mountains or the favorite couch in your living room, where we're not aware that someone is watching and assessing and judging our actions? And it doesn't stop there because we then step into the role ourselves, watching, assessing, judging … instead of BEING in our BELLY.
This constant observation obscures the natural, genuine capacity, and yearning to BE. It also romanticizes and dramatizes the innate qualities of self development that are necessary for all of us to evolve.
Courage, grit, suffering, happiness, heartache, trauma, misfortune … what does it look like to go towards the fullest BEING experience, to go towards these ageless elements of life?
How can you live from the BELLY and learn to lessen the impact of being watched, observed, and influenced by the OTHER?
It'll be an hour of pondering. You'll come away feeling inspired to find these BEING moments that provide a chance to experience the building of grit within yourself.
Sam invites you to CALL IN and CHAT LIVE about the 'BEING in the Belly with Grit & Courage' to further the conversation. Ask questions. Share experiences. This could be the hour that moves you one step further on your growth and development journey. Go to samparrotto.com to follow along and new show updates each week.
You won't want to miss being an 'ON AIR' participant of Expedition Self. Sam will provide real insight, understanding and offer an opportunity to connect a 'NEW way of thinking' to 'YOUR way of thinking'.
Each week Sam discusses a different and highly accessible aspect of life helping you to build a stronger, deeper relationship with the inner Self so you can become more and more WHOLE.
Visit the Expedition Self Show Page https://omtimes.com/iom/shows/expedition-self/
Connect with Sam Parrotto on her website at https://www.expeditionself.com/
#Grit #Courage #SamParrotto #ExpeditionSelf #Creativity
Subscribe to our Newsletter https://omtimes.com/subscribe-omtimes-magazine/
Connect with OMTimes on Facebook https://www.facebook.com/Omtimes.Magazine/ and OMTimes Radio https://www.facebook.com/ConsciousRadiowebtv.OMTimes/
Twitter: https://twitter.com/OmTimes/
Instagram: https://www.instagram.com/omtimes/
Linkedin: https://www.linkedin.com/company/2798417/
Pinterest: https://www.pinterest.com/omtimes/