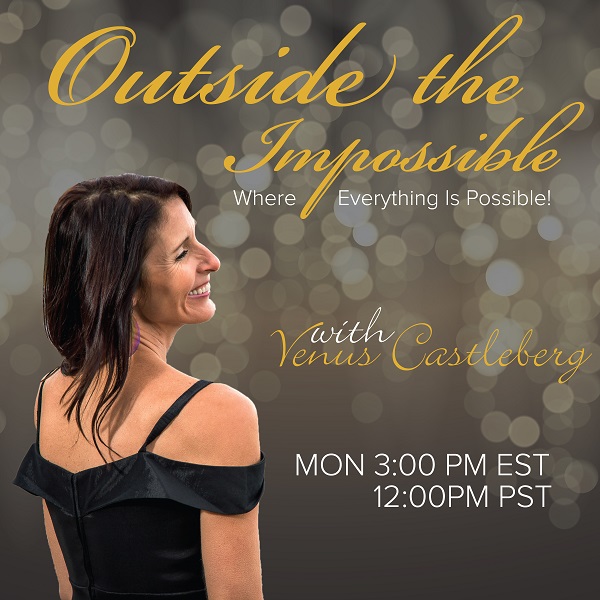 Sarah Grandinetti and Cassy Summers – Beauty of Contribution
Aired Monday, December 16, 2019 at 12:00 PM PST / 3:00 PM EST
Now, I know that true beauty doesn't have anything to do with how one looks.
It goes far deeper than that.
True beauty comes from within and radiates out.
It comes from the heart when somebody is truly being themselves and desires more for others.
Sometimes you see beauty, just for a moment, in a smile.
It can show up as if by magic for a whole day and maybe even a week.
And in the few who choose it, you can see it for a lifetime.
It's those people that light up a room just by being in it.
Beauty is in those people, like you, who desire to see the world a better place.
Did you know you actually glow when you're being you and enjoying life?
It's that radiating beauty you have that makes the trees brighter, the flowers sing, and everyone around you a little better.
Thank you for being the beautiful contribution you are!
Did you know these two beauties, Cassy Summers & Sarah Grandinetti and I will be talking about the Beauty of Contribution next Monday?
Listen here December 16, 2019 at 12pm PT.
Bio:
Sarah Grandinetti and Cassy Summers, better known as "Sassy" are changing the way we see beauty, oneness, and having our own backs while they have ours. With each their own unique gifts, together they are catalysts for change in whomever is in their wake.
Neither can be defined by their stats: Sarah, salon owner, mother of four, married for fourteen years and Cassy, life coach, single mother of two. Instead, these two women, upon meeting them, will be remembered by their out of the box facilitation to create MORE in everyone's lives they touch.
Sarah has a sterling knack for analogy; her storytelling pulls you in and you are held through all the turns until you arrive back at the lesson you learn. And you ask yourself how you ever DIDN'T know. Cassy is an exquisite mover of energy. Her perception is incomparable; the energy pulls she leads, if you are lucky enough to be present, leave you KNOWING you also can perceive and move energy.
So, put the two in the same room, and they are about to launch your life beyond your imagination. With the work they do, they knew their was a lack of ability for some in true introspection, so they created #iambeauty. A Facebook challenge, a movement of self, a movement toward tribe, a movement for all aspects of life. Parenting, business, etc. What started as a Facebook Challenge, turned into a movement. And the movement demanded to have a live event… participants are taken on a journey of exploring Beauty… inside and out; top to bottom; side to side.
"What if Beauty is nothing you have decided it is? How much of the beauty of you, have you been refusing to see because you've bought this reality's barometer for what is to be considered beautiful?" ~ Sassy
Sarah & Cassy have a target ~ to unravel and unlock the places where people judge their physical appearance so they can begin to see the unique beauty in each being. At times, it may get uncomfortable. It may be more fun than one thought it would be and it could just change the way people see themselves forever. In their group of amazing people they play, create, clear, laugh, cry, even dance and have wave parties – whatever it takes to claim, own, and acknowledge the aesthetics that all were gifted and celebrate them in all of their GLORY! One aspect of #IAmbeauty is the energy of having your own back and having the back of those that contribute to you at the same time. What would it be like to infuse that energy into your life? What if each person or family or business was like a one of a kind piece of art; much like a beautiful painting. Each person contributes their own stroke that turns the painting into a masterpiece!
They propose these questions and outlook to the tribe, "Could you ever judge a Picasso by a Van Gogh? Could you take the words of Shakespeare and compare them to that of Maya Angelou? No. Each creator had their own way of bringing beauty to what they were creating. One may have had inspirations from another, but it was their awareness of possibility that created something totally different in the world. Sarah and Cassy would love could embrace your own special brand of beauty, not compared to anyone or anything else…. just you being YOU and contributing to the world?"