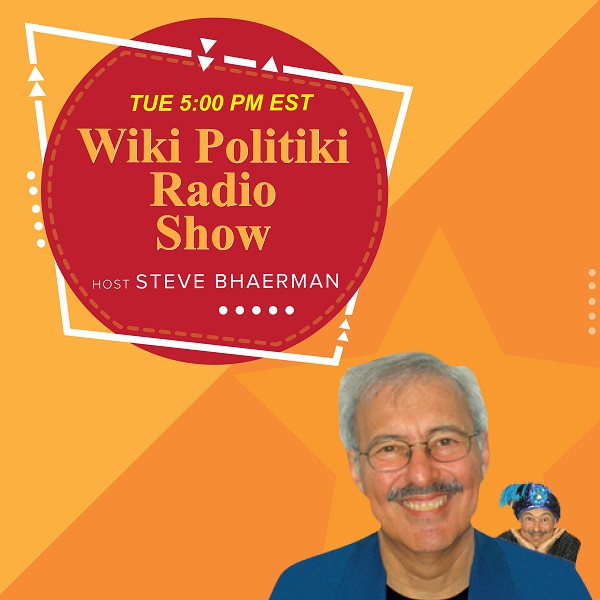 Jacque Fresco – A World Worth Imagining
Aired Tuesday, December 3, 2019 at 2:00 PM PST / 5:00 PM EST
Interview with Futurist Roxanne Meadows, Co-Founder of the Venus Project with Jacque Fresco
"I was a futurist in a past life." — Swami Beyondananda
If you remember the Zeitgeist movie from a dozen years ago, then the name "Jacque Fresco" will seem familiar to you. Fresco – who was featured in the documentary — was a visionary futurist and designer dedicated to a "peaceful and sustainable global civilization". Fresco died in 2017 at the age of 101, and his "work of heart", the Venus Project lives on, the subject of a new documentary film, A World Worth Imagining: Jacque Fresco The Man With the Plan. https://www.thevenusproject.com/
We are pleased to welcome as our guest on Wiki Politiki this week, Jacque Fresco's partner and co-founder of the Venus Project, Roxanne Meadows. With Fresco, Ms. Meadows has also been featured in radio, television, documentaries, and film festivals. She has been interviewed or featured in Futurism.com, Bloomberg, New York Times, Huffington Post, Houston Chronicle, Miami Herald, Philadelphia Tribune, The Times of India, Herald de Paris, Horizon, BBC Two, Now this Future, GQ Italy and much more.
As a futurist presenting the aims of The Venus Project, Ms. Meadows, along with Mr. Fresco, has presented at conferences and seminars throughout the United States and in 27 countries around the world. Starting in 1985, Ms. Meadows supplied architectural renderings, models and design work to major developers and architects throughout the U.S. As president and founder of Architectural Arts Inc., her clients have included: Disney Development Corp., Trump Towers Tampa, The Lutgert Companies, Westinghouse Communities, and Santiesteban & Associates Architects. Ms. Meadows is well-known for her accomplishments in scale model production work, scientific, technical, medical, and architectural illustrations, as well as architectural design. She taught technical and fine arts and has worked as a professional computer animator. In pursuit of other interests, she is also a licensed private pilot.
As you will learn in this interview, Jacque Fresco was more than a visionary designer – he had a vision for the world where the Golden Rule overrules the rule of gold. Roxanne continues his work, and if you're curious how the Venus Project can supersede the "martial plan" that currently dominates economics, please tune in this Tuesday, December 3rd at 2 pm PT / 5 pm ET. http://omtimes.com/iom/shows/wiki-politiki-radio-show/
To find out more about Roxanne, the Venus Project, and the new documentary, please go here. https://www.thevenusproject.com/
And now that we ARE back with new shows (and planning a Zoom video element after the first of the year), we invite you to help support Wiki Politiki and our mission to bring about "the great upwising" and functional politics! See below.
One more thing… How YOU and WE Can Make a Difference
Have you noticed that regardless of which of the two political parties you vote for, neither of them seem to be willing to confront Monsanto and agribusiness? Are you disgusted and frustrated by the stonewalling by the two-party duopoly? Are you ready to empower a truly effective "third-way" movement that can move the dial? Are you ready for … oxymoron alert … FUNCTIONAL POLITICS?
If so, go here to find out more: https://wikipolitiki.com/functional-politics-an-idea-whose-time-has-come/
Support Wiki Politiki — A Clear Voice In The "Bewilderness"
If you LOVE what you hear, and appreciate the mission of Wiki Politiki, "put your money where your mouse is" … Join the "upwising" — join the conversation, and become a Wiki Politiki supporter: http://wikipolitiki.com/join-the-upwising/
Make a contribution in any amount via PayPal (https://tinyurl.com/y8fe9dks)
Go ahead, PATRONIZE me! Support Wiki Politiki monthly through Patreon!