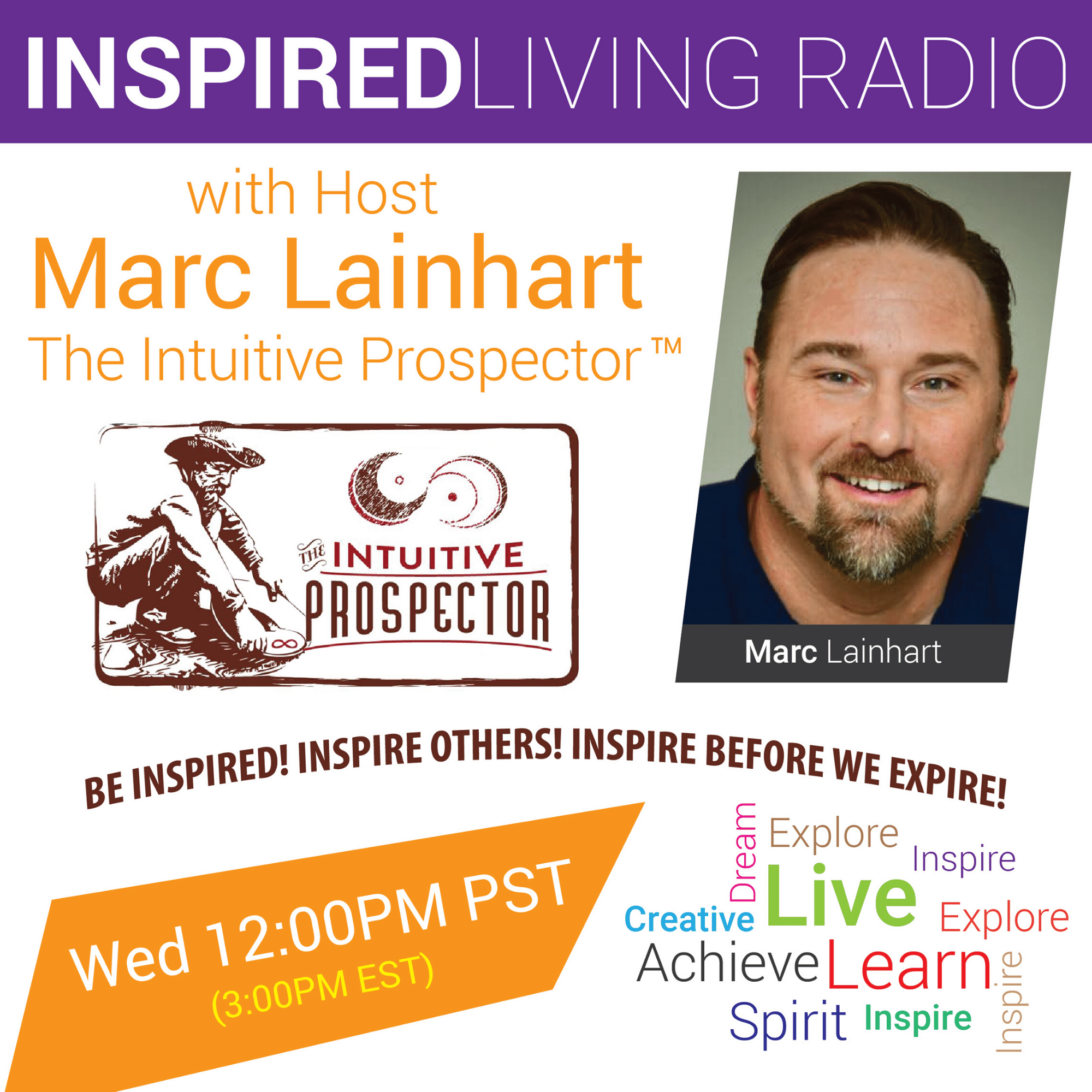 The Genealogy Medium – Sharon DeBartolo Carmack
Aired Wednesday, June 22, 2022 at 12:00 PM PST / 3:00 PM EST
Feedspot's Best 70 Inspirational Podcasts to Listen to in 2022! #22 – INSPIRED LIVING! https://blog.feedspot.com/inspirational_podcasts/
Join 'ILR' Host Marc Lainhart – The Intuitive Prospector™ this "Wisdom Wednesday" as Marc welcomes to the show The Genealogy Medium, Sharon DeBartolo Carmack to discuss in detail her new book, 'Midlife Medium!'
Can we really communicate with the dead? Sharon DeBartolo Carmack, a fifty-six-year-old renowned genealogist with no childhood paranormal experiences, intends to find out. Midlife Medium is an unintentional spiritual memoir as Sharon engrosses herself in the world of mediumship to learn whether it's possible for anyone to become a medium. The journey is not without unexpected, sometimes unsettling, consequences as Sharon grapples with her own mortality and discovers a little-known religion, Spiritualism. She also discovers that all relationships can heal, even after death. But perhaps the biggest challenge is the strain her quest puts on her relationship with her skeptical, science-teacher daughter. An often humorous yet profound attempt at bridging the gap between life and the afterlife, Midlife Medium: A Genealogist's Quest to Converse with the Dead also includes a short guide and suggestions for readers who want to start their own journey to become a medium.
Ready to go "PROSPECTING!"
TIME ZONES FOR LIVE SHOW:
10 am PT (Hawaii)
12 pm PT (Seattle)
1 pm MT (Colorado)
2 pm CT (Chicago)
3 pm ET (Boston)
8 pm (London)
9 pm (Rome)
Locate, Listen and Leave us a Review of 'INSPIRED LIVING' now streaming on any of your favorite Podcasting Platforms!
OMTIMES INTERNET GLOBAL PLAYER: INSPIRED LIVING RADIO – LISTEN LIVE FROM ANYWHERE AROUND THE PLANET: https://omtimes.com/iom/category/conscious-li/inspired-living/
OMTIMES RADIO CALL-IN LINES: 1-202-570-7057
POST A QUESTION ON THE 'ILR' PUBLIC FACEBOOK PAGE
FOLLOW 'ILR" ON INSTAGRAM, TWITTER AT: @INSPIRED4US
ABOUT:
Sharon DeBartolo Carmack is a Certified Genealogist, a Spiritualist Medium, and the best-selling author of twenty-seven books, including You Can Write Your Family History and Tell It Short: A Guide to Writing Your Family History in Brief, the recent biography, In Search of Maria B. Hayden: The American Medium Who Brought Spiritualism to the U.K., and the upcoming memoir, Midlife Medium: A Genealogist's Quest to Converse with the Dead.
Connect with Sharon at https://thegenealogymedium.com/
#GenealogyMedium #SharonDeBartoloCarmack #InspiredLiving #MarcLainhart
Visit the Inspired Living show page https://omtimes.com/iom/shows/inspired-living-radio/
Connect with Marc Lainhart at http://www.marclainhart.com/
Subscribe to our Newsletter https://omtimes.com/subscribe-omtimes-magazine
Connect with OMTimes on Facebook https://www.facebook.com/Omtimes.Magazine/ and OMTimes Radio https://www.facebook.com/ConsciousRadiowebtv.OMTimes/
Twitter: https://twitter.com/OmTimes/
Instagram: https://www.instagram.com/omtimes/
Linkedin: https://www.linkedin.com/company/2798417/
Pinterest: https://www.pinterest.com/omtimes/