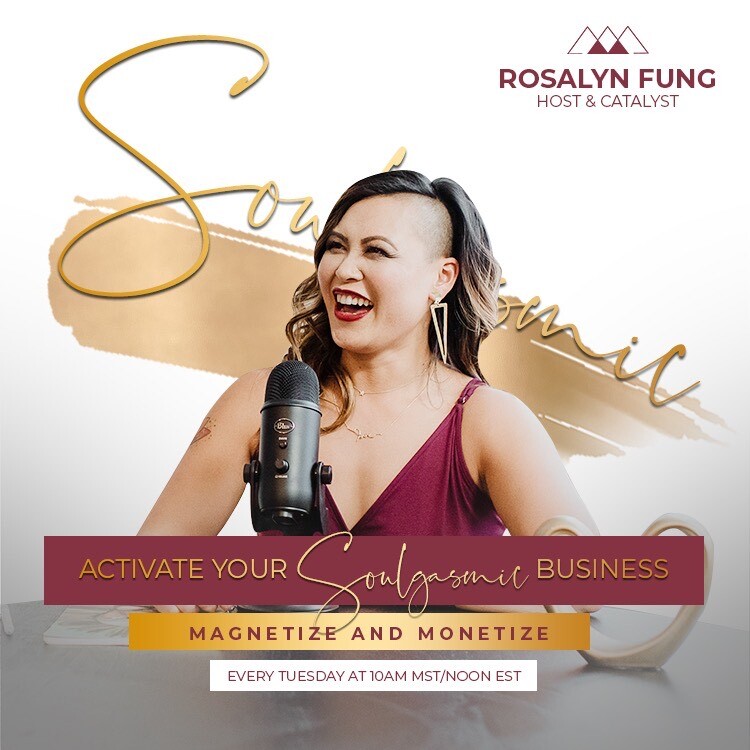 DeeAnne Riendeau – The Power of Accessing Your Akashic Records
Air Date: Tuesday, 13 April 2021 at 12:00 PM ET/9:00 AM PT
Thank you for tuning in, I'm so honored to have you choose to listen to this show! If you enjoy this episode, please do leave a review, take a screenshot of this podcast and shout me out on social media, so that more people can know about this!
It would mean the world to me for you to take a few minutes to share & review this, as I would love to spread more love and consciousness to the collective!
I want to share a new free guide I have created from witnessing many Healers And Lightworkers Struggling To Monetize Their Spiritual Gifts Because They Haven't Accessed Their Inner Permission To Receive The Financial Prosperity That Is Their Birthright
So I created a free guide called SOULGASMIC BUSINESS CODES to help you Unlock The 3 Activation Codes That Allows Healers, Lightworkers And Coaches To Activate Inner Permission To creating the impact they desire and Monetize On Their Calling
Download this guide here: https://www.7figureconfidence.com/soulgasmic
Have you ever been curious about Akashic record reading?
What exactly is it?
How do you get training in it?
How does it help support you in ascension?
Join me and my special guest, a dear friend and my own Akashic records mentor, DeeAnne Riendeau is a thought leader in spiritual and business development who's mission is to elevate how we think and live.
She is known as the modern day Willy Wonka for giving away her 6 figure company called Your Holistic Earth, which is the first holistic health care system of its kind. She is also the owner of Rose Hope International, in which she helps those who are seeking more joy, love, freedom, and a deeper meaning in life.
Experiencing a life of chronic illness, and near death experiences, DeeAnne rebounded with 20 years of health education and a diverse healthcare career including 6 health businesses.
She has spoken at Harvard University, appeared on Shaw TV, Global Television, and CTV and has been recognized as a visionary and business leader having been nominated for numerous awards including RBC's Woman of Business and Alberta Business of Distinction. Along with being an entrepreneur, DeeAnne is a mom of 2 bright kids, publisher, popular speaker and international bestselling author who uses her heart and her head to guide others to create their best life.
Connect with DeeAnne at https://rosehope.ca/
If you're feeling called to dive in deeper, join me in my 12 week mastermind Client Attraction Academy, where I will be walking you through my signature method, and you will receive modules for lifetime, weekly group coaching sessions with me, and together I'm here to facilitate you to your next elevated self, through mindset, soul and strategy.
The next Client Attraction Academy begins on May 26, 2021.
For more information, or to enroll, go to https://www.7figureconfidence.com/academy
To book in a free 30 min business soul alignment discovery call to ensure this program is a fit for you, go to https://www.electrifymybusiness.com/
Let's stay Connected! I would love to hear your thoughts of this episode!
Facebook Business Page: Rosalyn Fung Coaching: Bold Sexy Warrior https://www.facebook.com/boldsexywarriors/
Instagram: @boldsexywarrior
Free Facebook Group: Magnetize & Monetize for Coaches, Healers & Entrepreneurs https://www.facebook.com/groups/soulgasmicwarriors/
Free Client Attractor Checklist: http://funboldsexy.com/clientattractor
Visit the Activate Your Soulgasmic Business Show Page at https://omtimes.com/iom/shows/activate-your-soulgasmic-business
Connect with Rosalyn Fung on her website http://www.rosalynfung.com
#DeeAnneRiendeau #AkashicRecords #OrgasmicBusiness #RosalynFung