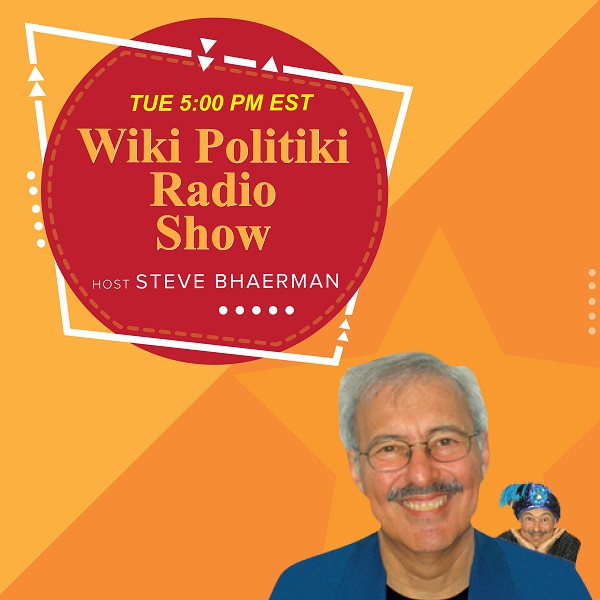 Aired Tuesday, 12 June 2018, 5:00 PM EST
An Independent Movement to Activate "the Progressive Majority" -  A Conversation with Nick Brana - Founder, and National Director of Movement for a People's Party
"The Republicans?  They've sold their soul to the devil.  Not the Democrats.  They've just RENTED theirs." -- Swami Beyondananda
A couple of weeks ago, we had as our guest on Wiki Politiki Erik Fogg, whose book, Wedged: How You Became a Tool of the Partisan Political Establishment and How to Start Thinking for Yourself Again talks about how both political tribes are mobilized by fear and anger to take polarized, intractable positions.  A recent book by a Yale professor John Bargh, Before You Know It: The Unconscious Reasons We Do What We Do, goes even further in suggesting that liberals can be made more conservative by invoking fear, and conservatives more liberal by creating a sense of safety.
Which brings us to this week's guest, Nick Brana.
Nick Brana is the founder and National Director of the Movement for a People's Party, a coalition of progressive organizations for a "nationally-viable party for working people". Nick had been the National Political Outreach Coordinator with the Bernie Sanders presidential campaign, where he lobbied the superdelegates and elected officials for Bernie, organized his political meetings and planned convention activities. He went on to become a founding member of Our Revolution and its first Electoral Manager, where he created an endorsement plan and assembled the candidates.
However, in early 2017, Nick Brana quit Our Revolution and launched his own independent campaign to "draft Bernie" as an independent candidate, citing the intractability of the Democratic Party apparatus and their resistance to genuine systemic change.  At a time when more and more people -- particularly young folks -- are turned off to both parties, can a "third party" become an actual "first party"?
Will this party merely triangulate progressive voters, and ensure Donald Trump a second term?  Or can the platform bring together progressives and populists who voted for Trump because the Democrats have been "tone deaf" to their needs?  Can their platform create enough unity, coherence and "safety" to bring conservative populists on boards as well?  What IS the strategy to take advantage of the growing disgust with the two parties that currently control our politics?
Tune in to this lively discussion on how we the people can "overgrow" the current pay-to-play political duopoly this Tuesday, June 12th at 2 pm PT / 5 pm ET:
Or, find us on the Wiki archives on Wednesday: http://wikipolitiki.com/archives/
Read more about Nick Brana and Movement for a People's Party here.
How you can support Wiki Politiki
 If you LOVE what you hear, and appreciate the mission of Wiki Politiki, "put your money where your mouse is" ...
Join the "upwising" -- join the conversation, and become a Wiki Politiki supporter: http://wikipolitiki.com/join-the-upwising/
Go ahead, PATRONIZE me! Support Wiki Politiki monthly through Patreon!