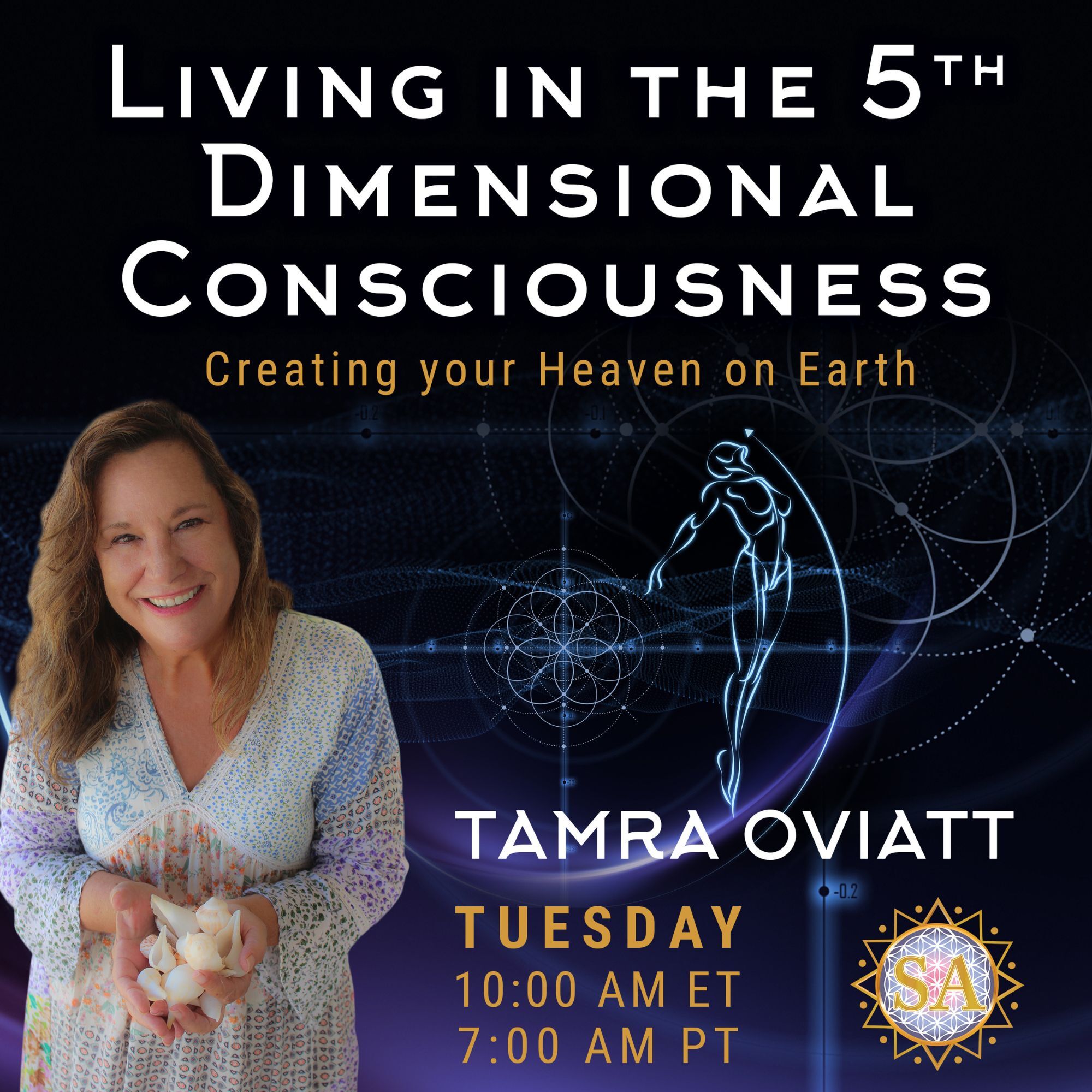 How to Create Your Heaven-on-Earth by Shifting Your Focus and Energy
Livestreaming and on the Radio Tuesday, 4 October at 10:00 AM ET/7:00 AM PT
Watch the Livestream on the OMTimes Magazine Facebook, OMTimes Radio & TV Facebook, OMTimesTV Youtube, Tamra Oviatt – Sacred Activations Facebook, and Tamra Oviatt – Sacred Activations Youtube
Welcome to the 8th Episode of Living in the 5th Dimensional Consciousness with Host Tamra Oviatt, founder of Subconscious Metaprogramming called Sacred Activations.
Join Tamra as she shares with you how she gets to where she is now – in her Heaven-on-Earth. In this episode, she also empowers and inspires you to create your own Heaven-on-Earth.
This is about how to be in your power, how to be in a space of peace, love, joy, and happiness most of the time, how to disconnect from the collective suffering, lack, and limitation, and how to create the life you desire.
This is about empowering you to start your inner work, to start being mindful of where you want to put your focus and energy, and to start healing and sending love to yourself. In this way, you are already helping the whole world shift into peace, love, joy, and happiness.
Also,
You will receive Activations/Deactivations at the last part of the show to help you shift your focus and energy.
Polar Opposites
Heaven on Earth
Anger and Resentment
#Energy #TamraOviatt #LivingInThe5thDimensionalConsciousness
GET FREE 7 ACTIVATIONS at https://tamraoviatt.com/free-gifts/ that you can listen to anytime you want and as often as you need.
Connect with Tamra Oviatt on her website https://tamraoviatt.com
Gratitude to Mikio Mountain Castle Band for the awesome Intro/Outro music
YouTube – https://www.youtube.com/channel/UCeO3YMnZbxALbTZpcCcvM7w
Website – https://mountaincastlemusic.com
Visit the Living in the 5th Dimensional Consciousness https://omtimes.com/iom/shows/living-in-the-5th-dimensional-consciousness
Subscribe to our Newsletter https://omtimes.com/subscribe-omtimes-magazine/
Connect with OMTimes on Facebook https://www.facebook.com/Omtimes.Magazine/ and OMTimes Radio https://www.facebook.com/ConsciousRadiowebtv.OMTimes/
Twitter: https://twitter.com/OmTimes/
Instagram: https://www.instagram.com/omtimes/
Youtube: https://www.youtube.com/c/OMTimesTV
Linkedin: https://www.linkedin.com/company/2798417/
Pinterest: https://www.pinterest.com/omtimes/